About Us
At The Ridge it is our priority to provide a warm, supportive community in which each child is a valued member. Our space belongs to the children, and that can be seen and felt as soon as you enter our class. Children's photos and artwork are documented and displayed throughout the space which encourages conversations and revisiting of past projects and interests.
We believe that children are capable and curious beings and have many ways of showing their intelligence and understanding of the world. As educators, it is our responsibility to ensure that the environment allows children to explore those ideas as we help guide their learning. The Ridge sees the teacher as a facilitator in the classroom. In our space, materials are set up that are interesting, inviting, developmentally appropriate, and open ended. These activities change often and are based on the unique personalities and interests of the children. Children have the freedom to use these materials in a way that suits their own interests and needs. By embracing children as active participants in their own education, we create an environment that encourages cooperation, problem solving and creativity.
Teachers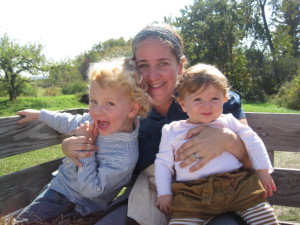 Courtney is an early childhood educator who started her teaching career at a Reggio Emilia preschool in Boulder, CO. It was here that she learned about this wonderful approach to early childhood education and it has continued to be the backbone of all her classroom experiences as well as her parenting style. She has spent the last several years raising her children and designing a preschool program that encourages students to explore, question and discover. Courtney is thrilled to begin this year with a new group of families and can't wait to see what the year holds for all of us.
Courtney received her B.S. in Human Development & Family Studies from Cornell University in 2001 and her M.A. in Educational Psychology from University of Colorado in 2005. She is a licensed NYS teacher in Early Childhood and Elementary School as well as CPR/First Aid certified.